Week of April 23rd
Pamela Fredrick
Nurse
Poplarsville, MS
During the height of the covid-19 surge, Pamela did not miss a day of work on the front line. All while working to keep her community's elder safe with mask, gloves, hand sanitizer and helping with a few store runs. Pamela's foundation (PamsAngles/PA foundation), gave away several food baskets and during the holidays gave away over 30 turkey's and hams to her community all while working to help others during "lock down", plus working over 40 plus hours a week.
---
Week of April 16th
Ruben Tillman
Community Leader/ Volunteer
Atlanta, GA
Ruben has been a servant amongst his community and peers for as long as we could remember. He is a member of Omega Psi Phi Fraternity, inc. and is the founder of the Tillman Leadership Foundation. He orchestrates annual back to school drives partnering with Douglas County, as well as several community outreach programs for the city of Atlanta. He is a young and enthusiastic minister, legislative aid, and community servant that embodies what it means to be a #HometownHero!
---
Week of April 9th
Chris Clements
Community Leader/ Volunteer
Covington, GA
Chris alongside the Zeta Pi chapter of Alpha Phi Alpha Fraternity, inc. hosted a street clean up to clean the streets of Athens. The campus was invited and trash was picked up off the streets, sidewalks and surrounding grass. In addition to this, we have hosted multiple community service programs with a goal of uplifting our community and our university.
---
Week of April 2nd
Rachel Ponder
Community Leader/ Volunteer
Atlanta, GA
Rachel demonstrates what it means to be a Hometown Hero leader every day. She embodies courage and bravery through protesting, organizing, and serving as a community liaison to different community organizations. Rachel has been involved in major social justice improvements including the demolishment Exxon Gas station. Rachel and other local leaders boycotted the Exxon after the owner said racial remarks to serval customers of color. Rachel is also a farmer and wellness practitioner so as she fights for justice she leads others to healthy lifestyles. She is a well-rounded leader and friend to many. I know she would be honored to receive this nomination and it genuinely embodies what she truly reflects in the community that she serves.
---
Week of March 26th
Theresa Price
Community Leader/ Volunteer
Diamond Bar, CA
Dr. Theresa Price has owned and operated The National College Resources Foundation for over 20 years. This foundation gives students an opportunity to to attend Historically Black Colleges and Universities, helps them apply to schools and sets their futures up for success. She is a genuine and kind human being who loves to serve underprivileged youth and guides them into the Avenue of success. If it would not have been for Dr. Price I would not have had the opportunity to apply nor be admitted into my now Alma Mater Dillard University. She believed in me when I felt like everyone else had given up. She is the catalyst for change in the next generation to come. She has truly earned it and will forever be my hero.
---
Week of March 19th
Nicole Iannarone
Special Needs Professional
Wantagh, NY
I am writing to you to nominate a very special and caring woman who is the Founder and President of Cornerstone Behavioral Services. Nicole and her staff work diligently with children with special needs. They have worked tirelessly thru the pandemic with families in order to ensure children with special needs still had a resemblance of some normalcy thru the massive changes that have taken place over the last 10 months. She mobilized her staff via telehealth to provide services and as soon as it was safe to do so she, started in-home services again in extremely safe settings. She is available around the clock for these families and now with back-to-school routines in place, she has been on-call to help adjust these children to yet another "new normal".
She has assisted my family and friends with advice, guidance and outstanding services for our family members. We have been extremely lucky and fortunate to have found her.
She serves families throughout Nassau County.
I would really like to see her honored and given the credit she deserves. Families of special needs children have not been covered thoroughly thru this pandemic and although it has been rough for normal functioning kids, the toll this has taken on special needs children has been very, very, very rough.
I strongly recommend you reach out to her and speak to her and you will see for yourself that she is a role-model we want the rest of the community to know about and some already do and because she is always giving back to the community.
---
Week of March 12th
Marion Byars
School Nutrition Manager
Morrow, GA
This young lady has been feeding the children since the start of the pandemic, tested positive and fed from home (via phone) and when her 14 days were over she was back out there again. She also volunteers at the food pantry and is a personal "Uber" for a lot of people.
#schoolnutritonworkersareessentialtoo
---
Week of March 5th
Raegan Lawrence
Community Leader/ Volunteer
Bonaire, GA
Our 11-year-old daughter, Raegan Lawrence is in the 6th grade at Bonaire Middle School in Georgia. After the loss of her great grandfather and two aunts in 2020 to Covid, decided to heal her heart. Over the past month, using a school band fundraiser, Raegan sold 24 cases or 1,440 bars of 'Worlds Finest Chocolate' at $1 per bar. Then using her birthday money and allowance, bought 420 bars to gift away to who she calls 'The Worlds Finest People', our first responders. She gifted 300 bars to the Houston County Hospital staff. Last week she gifted 120 bars to Warner Robins firefighters and EMS. Raegan stated it's her way of saying 'Thank You' for loving and caring for people during this pandemic. Their committed service has inspired her. Lastly, she hopes it makes her lost loved ones happy for she misses them so much.
–Submitted by her father, Allen Lawrence
---
Week of February 26th
Anthony Maxwell
Flight Paramedic
Blairsville, GA
Anthony is a flight paramedic in Blairsville, and also a paramedic in Dekalb county. During COVID19 Anthony has been working countless hours both on the helicopter and on the ambulance serving both the state of Georgia and also filling in in the state of Florida to provide care in this time of need! Anthony provides excellent care on everyone, from critical care all the way to basic first aid, he treats every patient to the best of his ability! Anthony has been a true warrior in this Pandemic all while taking care of his son and twin girls.
---
Week of February 19th
Rosanne E. Harris
Community Leader/Volunteer
New Lenox, IL
Rosanne E. Harris is known for her passion, her Law Enforcement acumen, and as a fierce advocate for women. She is an enthusiast about equity—leveraging her time, talent and network to address the needs of women in America. Recognized as a creative thought leader and community service champion, Rosanne's career has focused on improving the lives and opportunities of women of color.
On October 13, 2013, Rosanne began her next life chapter as the Founder and CEO of the Black Dress Society—a women's social club which emphasizes class and sophistication.
Prior to founding the society, Rosanne worked her way through the ranks at the Illinois State Police Bureau of Identification, from contractual employee to executive. During her tenure, her staff were often commended for high work productivity and also recognized for their community service involvement.
In 2015, Rosanne was awarded the Black Women Rock Philanthropist Award at Governor's State University. She was subsequently recognized by the Governor of Illinois and AARP for her community service efforts in 2017. Under her leadership, the Black Dress Society has grown to 9 Chapters nationwide and most recently launched its first youth society for girls, aptly named Black Dress Society, Too!
Rosanne E. Harris is a loving wife and mother of two. She is a clear example of someone who strives to be the best version of herself.
*She is a recipient of the Chicago Defender 50 Women of Excellence Award in 2018.
Rosanne E. Harris, a self-described autodidactic learner, has an inherent commitment to volunteer services. Her efforts in and out of the community have been inestimable.
In late 2012 Rosanne learned through statistics that the number of African American female readers was dwindling so she joined a national book club and subsequently started the first chapter in Illinois. In 2013, Rosanne became pregnant with the idea to inspire women nationally. For this reason, she conceptualized and founded the Black Dress Society which has an emphasis on class and sophistication while instilling qualitative tools and quantitative methods for success.
Prior to founding the society, Rosanne worked her way through the ranks at the Illinois State Police Bureau of Identification, from contractual employee to executive. During her tenure, the ISP B of I was often commended for high work productivity and also recognized for its community service involvement.
Rosanne E. Harris is a loving wife and proud mother of two children. She is a patent example of someone who strives to be the best version of herself.
*Her Black Dress Society (BDS) and her Order of the Eastern Star (OES) Chapter accounts for over 30 community service efforts a year.
---
Week of February 12th
Angela Kempsey
Store Clerk/Grocer
Pearl River, NY
Meet Angela, she is an awesome cashier at a local grocery store and she is always smiling. She uplifts everyone which is especially welcome during these times. Angela is so awesome that she gave out tea to customers waiting in line to get into the store just to bring a little light into their day. She hopes to provide everyone with a bit of comfort and Angela is also a really big Paul McCartney fan who also sings The Beatles to her customers. She is the sweetest cashier ever and fills the store with so much positivity and joy! Angela has given over 5,000 teabags and way over 1,000 boxes of tea.
---
Week of February 5th
Timothy Ayers
Community Leader/Volunteer
Orlando, FL
More than 230,000 plus pounds of food Since April. The West Lakes Partnership (five Neighborhoods), Florida Citrus Sports, Lift Orlando, Second Harvest Food Bank and the Arnold & Winnie Palmer Foundation have teamed up to host a series of emergency food drops for residents of the West Lakes Communities surrounding Camping World Stadium in Orlando, Florida . While serving others, we want to keep our senior population home and safe. we have had other vendors to bring meals, supplies, and more.
Approximately 700 families have been served at each food drop as food and other critical resources have been distributed to the community. Secure Fridays, serving 250 families , the West Lakes partnership and Lift Orlando serve another round of between food drops to help until the next 700 family food drop. During the holiday season an additional supply of holiday dinners was offered to our community.
When we are not with our secure food group West Lake volunteers joined other community groups to support other local food drops sponsored by City of Orlando District 5 and 6 Commissioners and Florida House Representative 46. One of our recent drops included working with Simply Health with Magic Johnson and the Orlando Magic (Nick Anderson and Bo Outlaw) at Camping World
---
Week of January 29th
Tommy Moore
Community Leader/Volunteer
Myrtle Beach, SC
Pastor Tommy Moore, once homeless, is bringing schools, churches, restaurants, communities and organizations together to provide food, gifts, fellowship, and free Christmas block parties to neighbors in need since last year humbly spotlighting teen, children and adult volunteers!
---
Week of January 22nd
Andrea Boone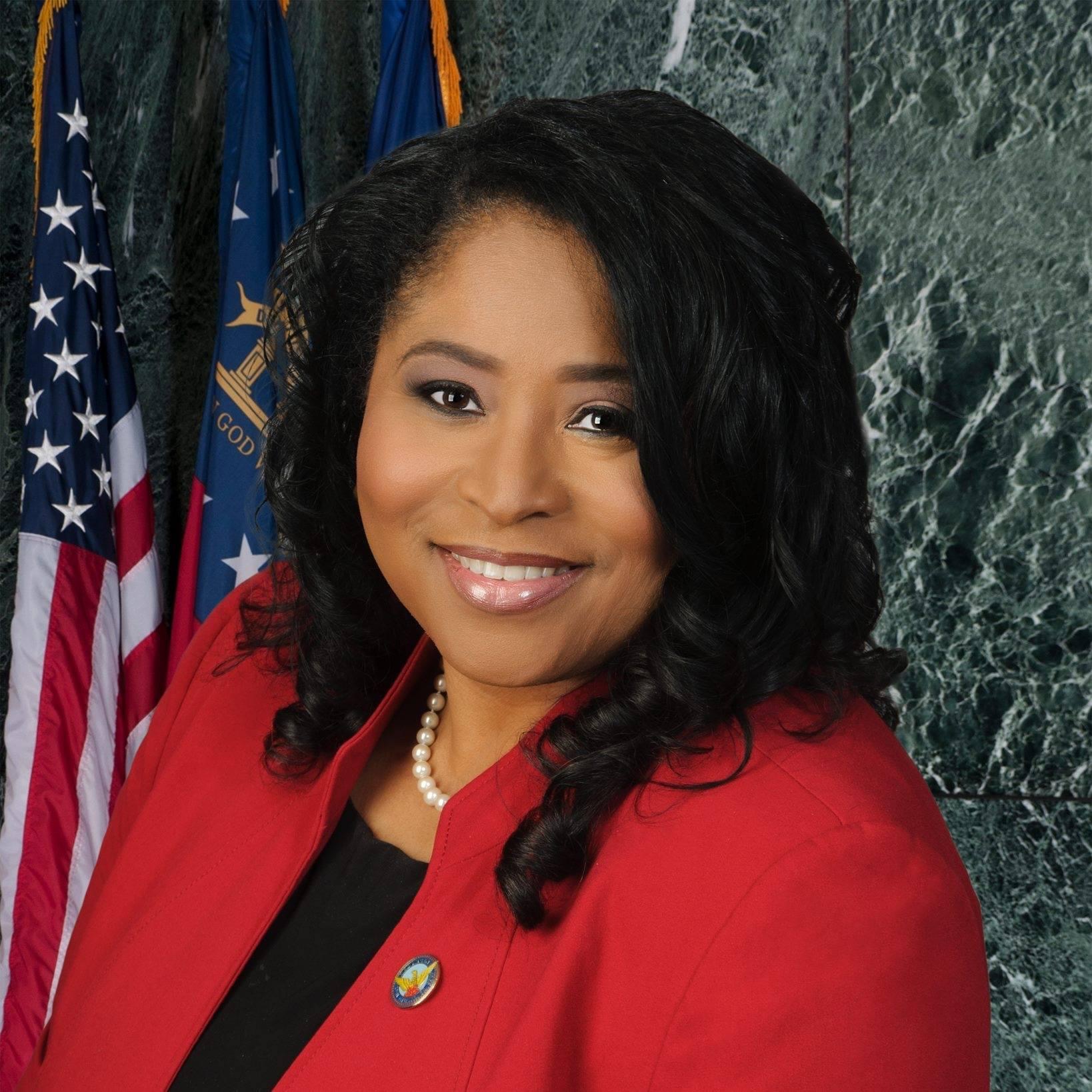 Community Leader/ Volunteer
Atlanta, GA
Councilwoman Andrea Boone has been an advocate for affordable housing, public safety improvements and youth empowerment initiatives throughout the city of Atlanta for over a decade. As commissioner, she worked alongside and in partnership with churches, senior centers, neighborhoods, businesses and other stakeholders to ensure elected officials at city hall never lost focus on the needs and issues within her district. Andrea is a graduate of Tuskegee University, and a member of Alpha Kappa Alpha Sorority.
---
Week of January 15th
George Epps
Community Leader/ Volunteer
Atlanta, GA
George has been running an after school youth program for 25 years in the community he grew up in, People's Town, a small community behind the old Braves Stadium. His focus has been to help facilitate the educational, emotional and social needs of underprivileged youth in the community. He diligently and consistently has been a fixture in countless kids lives serving as a mentor, teacher and father figure. George's selfless dedication to his work has won the trust and love of the community he serves and from which he belongs!
---
Week of January 8th
Kevana Smith
Travel Nurse
Atlanta, GA
Kevana has traveled from city to city and state to state to treat, and check in with patients across the country during the pandemic. When she gets a call for her next assignment, she gets up, and prepares for the next stop with no hesitation. She is based in Atlanta, but I honor her as a NATIONAL #HometownHero
---
Week of December 18th
Michael Devaul
YMCA Executive and Community Leader/ Volunteer
Charlotte, North Carolina
I grew up in Evanston, Illinois. As a kid, the YMCA was a magnet for young men across a diverse community, with organized sports in the school year, summer camps, and dances in high school. More than anything it was a place to hang out. An annual membership in those days was $41, and that was my ticket to a lot of the best memories of my youth. The one YMCA employees that I can still picture is Mike DeVaul. In those days he was just a few years older than my friends and me, but he was the one with the whistle, the clip board and a shirt with a collar, so we all did what he said. Beyond that, he was a young man who commanded and deserved respect. He was well liked, well organized, and committed to the mission of the YMCA. All of the parents loved him, and in my household, we all believed he would end up as the mayor of Evanston. He was the kind of magnetic character that brought people together and led by example, even in those early days.
While I haven't seen Mike in years, through LinkedIn and Facebook I've been able to stay in touch with him and his commitment to his community and to the mission of the YMCA. After graduating from college as a lifetime member of Omega Psi Phi Mike ended up in Charlotte, NC where he continued in leadership of the YMCA and an impressive career as a social entrepreneur. He co-leads the National Leadership Equity Network of the YMCA, the YMCA African American CEO Leadership network, and starting in January Mike has taken on the role leading the "Boys and Young Men of Color" initiative nationally for the YMCA. In this role, Mike is taking on the challenge of driving educational achievement and economic advancement for young men of color. Mike was awarded the "Champions of Change" award by President Barak Obama for his community building work.
---
Week of December 11th
Everett Hill
DGS Airline Fueler
Atlanta, GA
Fills the airplanes with fuel at Delta Airlines They are the ones that keeps the airplanes flying, without them all aircraft would be grounded. He's under paid and over worked. If you fly Delta waive and let them know they are appreciated. He works during rain, sleet and snow, 6 or 100 degree weather.
---
Week of December 4th
John Whitmon
Community Leader
Stockbridge, Georgia
John is a fantastic science teacher! He has been teaching students for 27 years. Many of his students have been calling or coming by( before the pandemic) for years to thank him for all of wise advice he gave then while they were in school. He is that teacher who cares about students, is true role model and community leader. Even in the pandemic and teaching virtually, parents thank him for being their child's advocate. He is definitely a Hometown Hero!
---
Week of November 27th
Dr. Douglass Collins
Doctor
Atlanta, Georgia
Dr. Collins and his staff work tirelessly seeing patients, calling reminding us to stay vigilant in taking care of ourselves, staying up to date on shots and the importance of physical being as well as mental during this time of COVID 19 and it's uncertainties. He truly cares about his patients and he is deserving of this recognition.
---
Week of November 20th
Aliyah Leboeuf
Social Worker and Community Leader
Tallassee, Alabama
This individual values the dignity and worth of the population in which she works with. She has worked to advocate for and assist youth with mental and intellectual disabilities. Throughout our current climate, she has continued to work diligently at what she does, despite what has taken place around her. She cares deeply about the young individuals that she works with, and works to ensure that they do well and receive all assistance that will positively benefit them. Aliyah more than deserving of the Hometown Hero Nomination.
---
Week of November 13th
Margarette Bryson
Election Poll Worker
Riverdale, GA
She is my neighbor, but we are like family. Margarette retired from AT&T in 2007. She began volunteering for Meals on Wheels and for Clayton County as a Election Poll Worker. About eight years ago she was diagnosed with breast cancer and went through all that comes with it. She has been cancer free for over 5 years now. Margarette has never stopped volunteering except for the times when she was recovering from surgery. She is 70 years old and a cancer survivor which puts her doubly in the high risk category for being susceptible to contract the Coronavirus. But, in every election over the past 13 years she has been there working at every one. And she would always call me to make sure that I didn't forget to vote. When my son turned eighteen she made sure that he had everything done in order to vote for the first time. Margarette is still doing a good work for the Kingdom and that is why she is my Hometown Hero."
---
Week of November 6th
Carla Pacheco
Middle School Principal/Bilingual Director
Las Vegas, NM
In a challenging role as Principal of middle school students and the Bilingual Director for the district, Carla Pacheco is a leader that embraces and celebrates her students and teachers. She is a visionary that sees successes and in all students and teachers and will roll up her sleeves and work alongside staff and students to create a school culture that is positive, caring, and supportive. Her leadership abilities enable her to gain a rapport with students and staff that creates self-confidence in students and staff. She is fair, firm, and consistent and takes the time to listen to the concerns of others. She demonstrates the ability to be a bridge-builder between staff, students, parents, and the community. She is a problem solver with a quick smile, laugh, and wit. If something she can do promotes a love for learning she is willing to be super silly, funny, and enthusiastic. Carla is always the first one at work and the last to leave. Las Vegas City Schools is blessed to have such an awesome leader that is such a dedicated educator. Even in this pandemic, Carla's work ethic is unyielding. She chooses to work from school every day where she can be more accessible to the learning community when she could choose to work from home. She has taught herself the ins and outs of distance learning so that she can help others. If she doesn't know something she will find out a solution or answer and always communicate with those in need. I could go on and on because Carla Pacheco is the true example of a hometown hero.
---
Week of October 30th
Holli Morgan
Student
Atlanta, GA
Throughout this pandemic, an 11-year-old girl named Holli used her talents of sewing to make masks for essential workers. Her original goal was 250 masks for healthcare workers. When she exceeded that goal she wanted to continue to help do her part. Holli proceeded to commit to making 1200 mask for homeless individuals. To date, she has made 947 masks. In between virtual learning, she continues to sew to meet her goals and give back to her community. You can find her story on Good Morning America, Oxygen, and all Atlanta-based news stations.
---
Week of October 23rd
Douglas Bond
Postal Services/Mail Carrier
Atlanta, GA
MY MAIL PERSON IS SO RELIABLE HE DELIVERS ON TIME AND WITH A SMILE! When it comes to a hero, he deserves the honor. Mr. Bond never seems upset, he always has a friendly smile and encouraging word for us, (seniors). He is like family, asking about how your family is doing. Since the pandemic, he has not missed a beat delivering our mail on time and with such professionalism. THANK YOU FOR HONORING Mail Carrier Douglas Bond, he deserves the honor!
---
Week of October 16th
Lane Harper
Police Officer
Birmingham, AL
Lane Harper is the multi-faceted Executive Director of the Power of Life Foundation, a 501c3 organization. He is a Humanitarian. He attended Alabama State University majoring in Criminal Justice. He is a member of Phi Beta Sigma Fraternity, a member of the National Organization for Black Law Enforcement Executives, a Black Belt in Karate, a Self-Defense Instructor, a Security Consultant, and an actor.
After years of funding his own acts of service, Harper created The Power of Life Foundation, a nonprofit organization, to expand his mission to provide basic human needs to people who are in need nationwide. The Power of Life Foundation services those in need of help with housing, food, clothing/shoes, disaster relief and youth development.
Since the pandemic began, the Foundation's mission has been amended to include to a new life saving initiative, "It's COOL to be Covered." This initiative hosts Drive Thru Free Face Mask & Food Giveaway events aimed at encouraging the youth and the public to wear face masks while in public, to help reduce the spread of the virus in their surrounding community and helping the underserved population with food insufficiency. The Foundation has hosted seven drive-thru distribution events giving away more than 60,000 free reusable cloth face masks and over 50000 pounds of food.
Harper also goes the extra mile in helping citizens in need throughout the City of Birmingham. He has been recognized by WBRC Fox 6, NBC 13, ABC 33/40, CBS 42 and several others for his acts of kindness and support in the community. He did an interview with WBRC Fox 6 News for safety and defensive tactics during the holidays. In November 2019, Lane Harper received the Wettermark Keith First Responder Hero Award. In 2020, he received a COVID-19 Hero Award from the Birmingham Times, a Civic Leader Award from Wilkerson Middle School, and the Hometown Hero Award from 98.7 Kiss FM and Mountain Dew.
He has been serving in the Criminal Justice system since 2000. He blends a wealth of field police experience, academy instruction, and behavioral management education into his courses.
He has instructed and trained hundreds of new police recruits and regularly provides verbal de-escalation and Pressure Point Control Tactics (PPCT) in-service training for departmental personnel, including instructors.
Previously he served as the First Staff Sergeant and Drill Instructor for the S.T.A.R. (Student Transition and Recovery Program) with the Birmingham School System alternative program.
Lane Harper teaches security firms and detail teams self-defense tactics. He also has taught martial arts to several municipalities in San Juan, PR, Florida, Texas, and Connecticut. Moreover, he has had the opportunity to instruct the police officers at the prestigious Yale University.
As an actor Harper portrays Medgar Evers in the Broadway Play and the Movie, "Justice on Trial," now available on Amazon Prime.
---
Week of October 9th
Antonio Vickerie
Sanitation Worker
Atlanta, GA
Throughout this entire pandemic, he has been required to work or be on call. Checking generators and pumps and repairing them as needed, ensuring that the runoff, sewage and drain water continues to flow. It is such an imperative function that we take for granted. Without people like Antonio working every day this pandemic would be totally unbearable. I could not imagine what it would be like if the drains in our home did not drain. Or if the streets were backed up with sewage. Thank you to Antonio and everyone that works in the under-recognized positions. You are needed and you are appreciated.
---
Week of October 4th
Alphonso Anderson
Marta Bus Driver
Atlanta, GA
They have had to work throughout this pandemic without hazardous pay, more than 100 drivers being diagnosed with COVID-19, all the while grieving the loss of his mother six weeks ago.
---
Week of September 27th
Chante Meadows
Social Worker
Columbus, OH
Chante Meadows has made tackling mental health stigma and the promotion of mental health understanding a priority during the pandemic. Chante, as owner of Meadows Counseling Group, quickly pivoted her practice to meet the needs of clients through virtual outreach so their personal heath remained stabilized during this great uncertainty. Chante is also a full time community lecturer at The Ohio State University where she helps to educate new professionals in her field on issues of diversity and care for the whole person. Chante continues to provide numerous trainings and insights around the topics of mental health including a Tedx talk entitled "Changing the View of Mental Health in Our Community". For her efforts, Chante was recognized as the National Association of Social Workers (NASW) Ohio Chapter 2019 Social Worker of the Year.
---
Week of September 20th
Tiffany Williams Roberts
Community Leader/Volunteer
Atlanta, GA
Tiffany has served as a mentor, professor, and leader within the community of Atlanta for as long as I can remember. She has practiced law, organized bailouts, social justice events and protest within the city of Atlanta and beyond; and is a proud member of The Movement for Black Lives. She has truly dedicated her day to day life to helping those impacted by the social justice system regardless the color of their skin, religious background, or gender. She truly believes that injustice anywhere is a threat to justice everywhere, and the amount of lives she has impacted throughout the country truly makes her a #HometownHero
---
Week of September 13th
David Tuckman
Community Leader/Volunteer
Los Angeles, CA
David has devoted countless hours as Captain of a Red Cross Disaster Action Team( DAT) that responds to residential home and apartment fires providing emergency lodging, financial assistance, leading responders on-scene on his nights off work. He served as Shelter Supervisor for 3 California Wildfires, Canteen Lead on-site for Newhall Pass Tunnel Explosion & Metrolink Train Derailment, Casework Team for Hurricane Katrina Disaster Relief Operation (DRO) (4 weeks) & Hurricane Rita (3 weeks) and 2017 Louisiana Floods DRO Casework Team, 2018 California Floods Shelter Supervisor in Sun Valley, CA., 2019 DAT Supervisor on the Bug Bomb Explosion Response & Getty Fire Shelter Supervisor. In addition, he is a Red Cross Youth District Youth Advisor mentoring youth and as a Youth First Aid Team Supervisor where he ensures youth age 16-18 are trained in Emergency Medical Response, CPR for Professional Rescue and youth age 17 to become Emergency Medical Responders and he supervises them on Red Cross First Aid Teams. In addition to DAT Captain during COVID-19 he has become a Public Affairs Officer and Public Information Officer and provided more than 370 hours worked as Red Cross Media Hotline Officer. David was recently at work with the US Department of Homeland Security as an Immigration Services Officer when he was rushed by ambulance during work when a virus entered his Pericardium outer lining of the heart and he could not breathe. He was in recovery for close to 2 weeks. We're amazed he recovered so fast. Thanks to amazing doctors he is back with us. We want him to take it easy and take a break from volunteering during COVID-19. We already had a big scare with David. He's supposed to rest and take it easy but, he feels such a strong dedication to help his community during COVID-19 that he is going back to Red Cross and next week he will be back as a Public Information Officer with Disaster Public Affairs and next month after he's medically cleared, back on duty as Captain of a Disaster Team. He is my hero and I would like him to be recognized for all he does to help people.
---
Week of September 6th
Briana Coakley
Social Worker
Chattanooga, TN
Briana Coakley recently graduated with her Master's degree in Social Work and immediately was hired in her current position.  Shortly after starting that job the pandemic hit.  It was not respective of who it affected and those working in the medical field still had to press forward.  Briana had to continue her visits with patients already suffering from mental, social and/or physical ailments.  COVID 19 added an additional stress to those patients.  She did so without complaint or hesitation.  I salute Briana as well as the countless others who were selfless during this time.
---
Week of August 30th
Joshua Reid
Firefighter
Atlanta, GA
"Josh is truly a light that shines bright throughout the community. In our community you never hear young/older teens display interest in being a firefighter or police officer. Josh is showing the youth that you can come from where we come from, be perceived as "cool", and still want to be these things. We've experienced a lot of tragedy on south side over the past few years and knowing that one of our very own is on the direct front line to help make a change and impact lives speaks volumes and touches us all very dearly. I can speak on behalf of the entire community and say that we are extremely proud of Josh for all he has done so far. He truly is one of our hometown heroes!"
---